IATF16949 Certification
Quality Policy
Customer Satisfaction 
Total Quality Management 
Innovation & Improvement 
Employee Participation
Quality idea
We believe in consequence of the customer demanding that the constitute has existential value, the customer is the most important in our constitute operating, to fully understand what the customer demanding, to provide the variant dominator, friendly and fast service forwardly; to participate and conjugation with the customer quality activity to reach the customer and establish for the long term relationship. To output profession sufficiently and reveal the biggest complementary function to our customer, in addition, to raising competition advantage and constitute existential value.
To pervious the employee who has quality recognized consciousness and creativeness to establish communication unity and ability education, to try to get international quality system certification progressive and fully maintain the quality system implementation. On all employee training to promotion self, constitute upgrade direction, and progress made toward continual improvement spirits, to induct all the employee to take a greave of: Quality、 Cost、Speed、 Service to promote the constitute competition, to expect approaching 100% the customer satisfaction!
---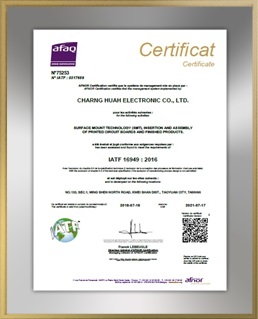 Charng Huah has passed the strict automotive quality IATF16949. For automotive product s have passed professional testing equipment such as MSA, SPC, EMEA…etc. We also set up reliability laboratory test room to enhance quality reliability and reach the highest customer satisfaction.
Related information
IATF16949 Quality System bases on ISO 9000 quality management system and is an International Standard in automotive industry.
IATF16949 Quality System following increases work efficiency and effectiveness through the strategy of actively solving problem.
IATF16949 points out a good business controlling model emphasizing on continual improvement.
Five Core Implement
Advanced Product Quality Planning and Control Plan
Production Part Approval Process
Failure Mode and Effects Analysis
Measurement System Analysis
Statistical Process Control
Three Processing
Customer Orient Process
Management Process
Support Process
IATF16949 Processing Guiding Principle
Continuous improvement in supply chain management Quality improvement Productivity improvement Cost down
Emphasis on defect prevention SPC application Defects prevention measures
Variation and waste reduction Best inventory turnover rate and minimum inventory ensurance Quality Cost Not quality related external cost(waiting line,excessive transportation…etc)